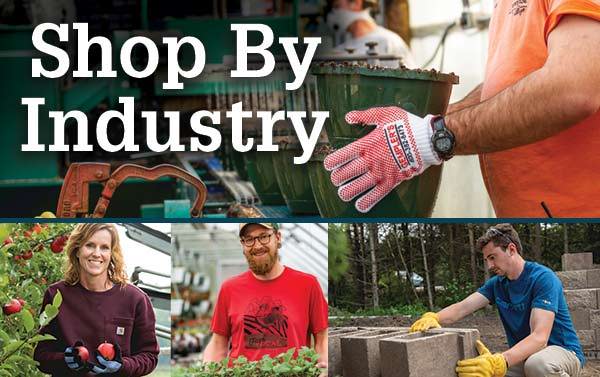 10% off orders of $100+ use promo code GNCL10D
15% off orders of $150+ use promo code GNCL15D
Online Only • Requires purchase of item from shop by industry collection pages • Expires 4/30/20
10% off your next $100+ order, 15% off your next $150+ order while supplies last. Offer expires 4/30/20 and does not apply to previous purchases or clearance products and cannot be combined with any other discount or promotion. Requires purchase of item from shop by industry collection pages. Discount is off catalog "Each" price and does not apply to tax and freight, special or custom products, Carhartt, Columbia, DeWalt, GPS units, Generac, Keen Utility, Leatherman Multi-Tools, Lifetime Sheds, Muck Boots Co, Timberland PRO, YETI or Under Armour. Not available to customers with discounted pricing programs. Online Only.
---
Gempler's is your source for commercial-grade products that serve farmers, landscapers, nurseries, fruit and vine, grounds maintenance and many more. Shop our hand-picked collection of problem-solvers that make your work easier.
Don't see something you need? Send a message to Carl (our owner and president) and let him know what we're missing! carl@gemplers.com
We match any competitor's price!
We ship most orders the same day we get them.
Our fulfillment center is state of the art, and we know you want to put our products to work for you as soon as possible.
We treat you like a neighbor, not a number.
Our real live phone reps are available toll-free 800-382-8473. They'll help you select just the right products for your job, and guide you through every step of your order.
No need to test our products - we've done it for you!
Tools, safety equipment, pest control, even workwear, boots and gloves - we've tracked down the best for you, so you know if it's from Gempler's, it'll get the job done.
Where to find the best brands? Right here!
Carhartt, Timberland, Columbia, Darn Tough, Gempler's - we'll always be on the lookout for the most innovative new prodcuts, from companies you know and trust. (And a few you might NOT know yet.)