3 Key Steps to Choosing Respiratory Protection
Step 1: Know your hazard.
From what do you need protection?Paying attention to material labels is the first key to staying safe. Common hazards like dust, mold, paint and pesticides have unique PPE requirements. Labels include NIOSH recommendations to help keep you safe.
Step 2: Pick your protection.
Respirator filters and cartridges come in different types and brands. The right one for you depends upon whether you'll do this job often (reusable) or once in awhile (disposable), and what respirator equipment you already have (check compatibility).
Step 3: Choose your respirator.
Pick disposable, reusable or air-powered respirator equipmentthat's compatible with the specific filter, cartridge or combination you need to stay safe on the job, pay attention to brand and fit compatibility and don't forget to fit test your respirator. Find more on this and other respirator resources below.
Do I need a respirator filter, cartridge or both?
The answer depends on the hazard from which you need protection. See below.


Particulate Filters: Filters only aerosols (e.g., dust, mists, fumes, smoke, mold, bacteria, etc). Some filters also have nuisance-level gas and vapor capabilities.
Gas & Vapor Cartridges: Filters only gases and vapors. There are different kinds of cartridges for different kinds of gases and vapors, and filters are specific to the brand of respirator you choose. For example, if you have a 3M respirator you'll need 3M filters or cartridges. If you have a Moldex respirator, you'll need Moldex filters or cartridges.
Combination Cartridge/Filters: Filters particles, gases and vapors. Different combination particulate/cartridge filters are used depending on the gas or vapor present in the air. You may also hear the combination referred to as using a cartridge with a particulate "pre-filter".
Difference Maker: Your respiratory health matters. Proper respiratory PPE can help prevent common health issues among professionals who work with hazardous materials, including:
Farmers: The three main respiratory illnesses associated with production agriculture are farmer's lung, silo filler's disease and organic dust toxicity syndrome (Source: Ag Safety and Health eXtension Community of Practice (CoP))
Construction workers: Construction workers have been shown to have a significantly elevated risk of lung cancer due to work with silica dust, exposure to asbestos and other hazardous materials. (Source: NIOSH)
Landscape professionals: Silica dust, pesticides, herbicides and other hazards put landscape professionals at risk for respiratory health issues.
Respirators are a Key Part of Head-To-Toe Protection
This infographic highlights work-related health statistics for farmers' eyes, ears, lungs, hands and more and offers insights for any professional in similar work conditions. Stay safe from head to toe!
View Graphic
How to Choose a Respirator
Types of Respirators and Uses
Need to know how to tell one respirator from another, understand differences and applications, and choose the one that's right for you? This article and the links below will help.
View Article
Choosing A Filter
When choosing protection from particles like dust, pollen and mists, you'll need the right respirator filter. Learn how to choose the right one with this infographic.
View Chart
Choosing a Cartridge/Filter
Choosing the right cartridge, filter or combination is critical in making sure you're protected. Get insights on choosing the right cartridge or cartridge/filter combination here.
View Chart
Select The Right Respirator Cartridge
Picking the right protection can be confusing, but we can help. In this educational video, learn how to select the right respirator cartridge for protection from hazardous gases and vapors, or a combination of gases and vapors and particles.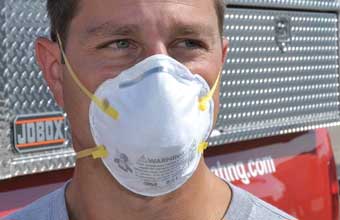 Particulate Respirator Proper Use
Learn how to use a particulate respirator for on-the-job protection from small particles in the air, such as dust, mists, pollen and certain low-toxicity pesticides.
View Article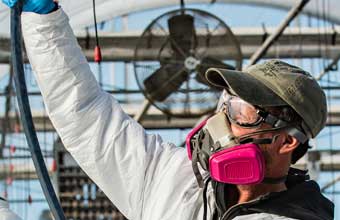 Dual-Cartridge Respirator Proper Use
Learn how to use a dual-cartridge respirator for protection from particles like dust or mists, gasses and vapors or a combination, depending on which filter or cartridge you use in combination.
View Article
Don & Fit Checking Dual-Cartridge Respirators
Safety can only happen if your Personal Protective Equipment fits correctly. Learn how to don and fit check a half mask and full face reusable respirator with dual cartridges to make sure the respirator works effectively.
Watch Video
Don and Fit Check Disposable Respirator
Proper use and fit is essential for achieving the protection the respirator is intended to provide. This video demonstrates how to don and fit check a disposable respirator.
How to Care for a Respirator
How To Properly Care for Respirators
Take care of your respirator, and it'll take care of you. Learn about proper storage, cleaning and other tips in this article.
View Article
How to Clean and Store Your Dual-Cartridge Respirator
Make sure your respirator lasts a long time and performs as its designed by taking good care to store and clean it properly. This video shows you how.
Watch Video
How To Attach Respirator Cartridges
Making sure you properly attach cartridges to your respirator is important so that you stay safe and protected on the job. This video shows you how.
Watch Video