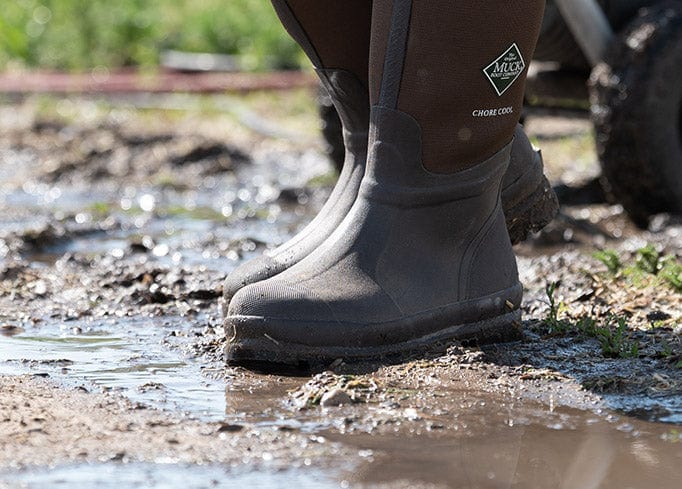 Choosing Waterproof Footwear
Many work shoe and boot styles feature certain waterproof elements, but when you're working in heavy duty mud and muck, chances are, you're looking for a truly waterproof chore boot.
Waterproof Footwear Features and Facts
Knowing what key waterproof footwear features and benefits to look for help you shop based on what's most important to you.
Waterproof materials: Common materials include TPE, PVC or rubber which keeps water out and is easy to clean.
Temperature: Insulated work boots provide warmth, as well as an element of comfort, but may be too hot for warm work days.
Slip-resistance: Slippery surfaces can be dangerous, as they can put you at risk of falls and slips. Choose boots with protective and slip resistant outsoles. A deep lug or tread can also help with traction for outdoor work.
Durability: Quality of material used as well as construction matters. Rubber, PVC, waterproof neoprene and TPE are great material options for waterproof boots. In general, they may not last as long as waterproof leather work boots, but they're intended for a different purpose, like chores in wet weather, spraying and wet work in manufacturing conditions.
Washability: A key advantage of waterproof chore boots made of a non-porous material like rubber or PVC is that they rinse off with a hose, which can be a key advantage for outdoor pros that use waterproof boots for wet, sloppy weather or for protection when spraying chemicals.
Comfort: Look for materials and features that build comfort into your waterproof work shoe. For example, cushioned insoles. These insoles, often made of EVA (ethylene-vinyl acetate) are similar to what you'd find in athletic shoes and give "rubber-like" softness and flexibility. Choosing a boot that fits well and won't rub or chafe is also key to all-day comfort.
Waterproof Work Boots for Safety
In addition to keeping your feet dry, some waterproof work boots also feature safety toes. This is critical for hardworking pros whose workplace requires protective toe footwear or for those who simply want to protect their toes in hazardous working conditions.
Composite toe waterproof work boots are becoming increasingly popular, since they're lighter-weight than steel toe boots and don't conduct heat and cold or electricity. However, they are not as strong as their metal counterparts. A boot's outsoles also play a vital role in protecting you from slipping and falling. Look for slip-resistant outsoles that provide good traction with rubber lug outsoles to grip the ground and channels to redirect water. Slip-resistant rubber soles with puncture-resistant features are a big plus too.
Work Boot Height as a Function of Protection and Comfort
One key factor in choosing the best waterproof footwear is deciding what boot height works best for you. If your work involves wading through deep water or mud, you need tall boots with a high boot shaft. Some waterproof work boots, like Sugar River Waterproof Chore Boots for example, come in a variety of heights to choose from. Common boot shaft heights are 6-inch (just above the ankle), 12-inch (mid-calf) and 16-inch (just below the knee). Temperature may also play a part in your decision, since taller boots provide more warmth.
Top Waterproof Footwear Picks
Safety Toe Boots
Sugar River Composite Toe Chore Boots
Guaranteed to meet or exceed ASTM F2413-11
Rubber soles keep a grip on slick surfaces
Removable EVA Footbed for comfort
100% waterproof neoprene outer
Women's Top Boot
Muck Women's Chore Plain Toe Mid
Built-in Airmesh™ lining keeps feet cool
Thick 5mm CR Flex-Foam uppers for flexibility and protection from the cold
Rugged outsole for traction
Overboots
An economical way to keep your feet dry using your current work boots is with overboots. Gemplers has a large selection including basic rubber overshoes, calf-height boots, even insulated winter boots with built-in ice cleats.
SHOP ALL OVERBOOTS HERE
Darn Tough Socks
Up your sock game with moisture-wicking wool-blend socks that keep your hardworking feet dry and comfortable. Darn Tough moisture-wicking socks won't slip or bunch up. Wool blend insulates, yet wicks moisture, for comfort as good in the cold as in the heat.
SHOP ALL DARN TOUGH SOCKS HERE

Need Help?
Still have questions about what gear you need to stay dry? We're here to help. Give us a call at 800-382-8473 or email customerservice@gemplers.com