Added to your cart!
Subtotal:
$0.00

Power Locker Equipment Tie Down x
1
$272.49
Availability: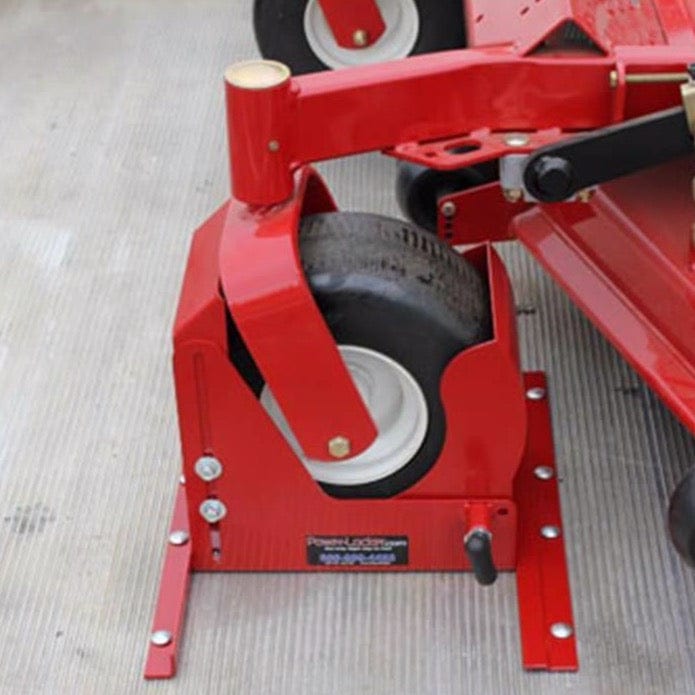 Secure light utility equipment in just seconds
The Power Locker Equipment Tie Down secures wheeled equipment under 1,200 pounds in just seconds. It is the only complete wheel lock system on the market that meets all state and federal laws in one box. It installs securely to the deck of most open or closed trailers. Once in place, simply drive onto the pivoting shoe and it automatically locks into place. To remove the equipment, simply pull the swing pin and drive off. The lock can be completely removed from the floor bracket with a single pin in seconds, freeing the trailer space for other hauling needs. Power Lock comes in three sizes to fit most equipment. All Power Lockers are also interchangeable – the front and rear mounting brackets fit all Power Locker sizes. A padlock can be used for added security, though the Power Locker is not primarily an anti-theft device.
PL-200 (size S) - Fits tire diameters 7" thru 11", 5-1/8"wide. For walk behinds, bed edgers and push blowers. Product will not work with front castors that include suspension links.
PL-300 (size M) - Fits tire diameters 12" thru 16", 7-1/8" width. This unit fits most all larger stand on mowers, zero turn units, sprayers, core aerators, etc. It will not work with front castors w/ suspension links (Zero Turn mowers). Will not work with front deck Walker mowers. Does NOT work on the new Gravely Pro with wider front caster wheels
PL-350 (size L) - Fits tire diameters 16" to 20", 11-1/8"wide. For certain sprayers, small ATV's, golf carts, Gators, utility vehicles, etc.
PL-400 (size XL) – Fits tire diameters of 20" to 27" up to 11-1/8" wide.
Only one Power Locker is necessary per piece of equipment up to 1,200 lbs.

NOTE: Will not fit Z-Spray products or zero turn mowers with front castor suspension. Because of weight limitations, two PL-300 units are required per each Z-Spray to capture both front wheels.
Will not work with Gravely zero turn due to the width of the front castor forks. Will Not fit Exmark Sprayers.
Versatile Design: Low-profile front and rear bracket are stationary, so you can use your trailer for other applications
Extra Protection: Can be locked with a padlock for added security
Super Strong: A single Power Locker can support up to 1,500 lbs.